Logistics Market Overview
Logistics definition is simple, it states that this is the movement of items from one point to another. In most efficient countries in the world like US, logistics account to nearly 8% of their GDP towards Logistics cost, the average is around 13% and this could be as high as 25% in less efficient countries. In US, cost of business logistics was pegged between USD 1.5 Billion- 2 Billion during 2018 and 2019, which was around 8%-9% of their GDP. The FDI (2018) accounted to around USD 1.5 Billion. This sector supports around 65 Million jobs in US alone and it invest around USD 3 Million in R&D annually.
Logistics market research also includes transport and warehouse management, major companies focus mainly on industry-specific sectors such as high-tech machines, the automotive industry, the pharmaceutical companies, and other high-income generators.
Logistics Market Functions
Logistics refers to the means of planning, managing, coordinating and organizing supplies from the point of origin to the point of consumption. It also involves packaging, production, warehousing, security, material handling, integration of information, inbound and outbound transportation, and supply/demand planning of third-party providers. It helps in efficient transport and storage of goods & services to satisfy the needs of the end-users cost-efficiently.
As logistics represents a crucial role in the steady functioning of online shipments. The need for logistics is progressing around the world. The refund and easy return policies have also kindled the demand for reverse logistics means with tracking ease. Moreover, the growing environmental concerns and thriving focus on sustainable growth have catalyzed the need for green logistics, implementing sustainable transportation solutions. Other factors anticipated to impel logistics growth include the growing international trade agreements, constant technological developments, the integration of global positioning systems, driverless vehicles,  biometrics and drone delivery with logistics systems.
Rapid germination in the eCommerce market would boost competition amongst eCommerce logistics solution providers leading to innovation in delivery models. Order fulfilment and value-added assistance to enhance the last-mile delivery.
An efficient logistics management connects businesses to domestic and international markets. It influences the effectiveness of global supply chains in manufacturing and the competitiveness of the industry of a country. Please feel free to request for a free demo of our Logistics market research reports of Global Market Database.
This century's biggest economic trend is the shift of economic gravity toward Asia. In nations such as China, India, Indonesia, Vietnam, and Bangladesh, the increase in PPP of middle class has risen rapidly, which is also a key driver in this market.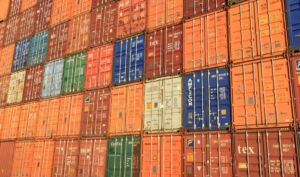 Logistics Market Growth
To prioritize operational effectiveness the logistic industry anticipated technology adoption. Shipment forwarders that provide innovative online clarification offerings in custom brokerage, freight matching and transportation management are suspected to modify and enhance customer experience. The warehousing industry is anticipated to remodel significantly with process mechanisation. Because of the increasing demand for unified supply chain solutions and the advancement of cross-border eCommerce.
Many logistics firms have affirmed to globalise their services in line with the dynamic requirements of the customers. Leading nations in the region are witnessing speedy technological integration in the logistics process.  For Example In India, 80% of shipment is by road, and the transport industry is employing industry-leading tracking devices to help trace and foretell the specific delivery times. Thailand is consolidating Maersk's blockchain and IBM project to streamline its freight monitoring means.
Expanding intra-Asian trade, along with a viable development in imports in manufacturing inputs and customer products, defines Asian logistics. China's Belt initiative has commenced enormous investment in transport infrastructure across the region as it attempts to unite Asian and European markets. As well as exercise political influence on the provincial stage.
MARKETS COVERED
INDUSTRY SEGMENTS
Road, Rail, Maritime, Air, 3PL, 4PL, Warehouse and Multimodal
STUDY PERIOD
Domestic Transport Management systems are is a part of the supply chain associated with transportation operations in specific. A transport management system is usually placed between a legacy order processing (or ERP) and a distribution or warehouse module. A typical TMS model is noted to have an inbound as well as outbound facility, i.e. procurement and shipping. The model is conducive to […]
Read More